Our Updated Procedures
Bonaventure Resort & Spa places the safety of its guests and team members above all else. We have long prided ourselves on a high-standard cleanliness regimen. In the interest of creating the cleanest and healthiest environment possible for everyone in our community, we have implemented a new program of stringent health and sanitation precautions adhering strictly to CDC guidelines. You will notice these additions over the next few months.
highlights
General Detail Cleaning
Within guest rooms, we are requiring all surfaces to be treated with hospital-grade disinfectants.
social distancing
Signage and partitions have been added in the lobbies to remind guests to maintain social distancing protocols, and furniture has been removed to allow ample space.
high touch objects
The resort will be decluttering by removing pens, paper, and guest directories from guest rooms. Other high-touch areas will be more frequently sanitized.

Food & Beverage
We are designing new approaches to buffets. Additionally, all menus and utensils throughout our restaurants will be one-time use and disposable.

dedicated team
Our housekeeping staff will be disinfecting public areas at a much higher frequency, and guest rooms will be fully sanitized between each stay.
staff safety protocols
All Bonaventure Resort & Spa staff will have their temperature taken prior to entering the workplace.
Cleanliness Changes List

Healthy & Safety Precautions
Hand sanitizing stations are being installed near the entrances, front desks, elevator banks, fitness center, and meeting spaces.
The resort has added partitions at front desks to provide an extra level of precaution for its guests and associates.
The resort is working with supply chain partners to make masks and gloves available to all associates for daily use.
The resort is providing touchless room-service that will be specially packaged and delivered right to the guest room door without contact.
The food handlers and supervisors at Bonaventure Resort & Spa are trained on safe food preparation and service practices. The company's food and beverage operations are required to conduct self-inspection using its food safety
standards as guidelines, and compliance is validated by independent audits.
All restaurants on property will be operating at a reduced capacity until further notice.
All food and beverage staff roles have been assigned to ensure a high level of safety and eliminate cross contamination.
Meeting & Event Safety
All measures previously mentioned will be enforced during all meetings and events held at Bonaventure Resort & Spa. The resort will also implement additional operational practices during meetings and conferences.
It's recommended that meeting planners take their temperatures before entering the event, provide masks for their guests, and mail registration materials in advance to the event date. It's also advised for meeting planners to ask all attendees feeling ill to not attend the meeting, conference, or event.
Signage promoting appropriate hand hygiene and respiratory etiquette will be added throughout the space, in addition to hand soap, tissues, and alcohol-based hand sanitizers. An isolation area for any attendee or guest feeling an on-set of COVID-19 symptoms will also be provided until first responders are able to assess the situation.
Social distancing practices (6 feet apart wherever possible) will be implemented in all meeting room setups. Additionally, we ask that meeting planners minimize crowding wherever possible. All pads, pens, and candy bowls have been removed from meetings. If desired, pre-packaged contactless food and beverage options are still available for meetings.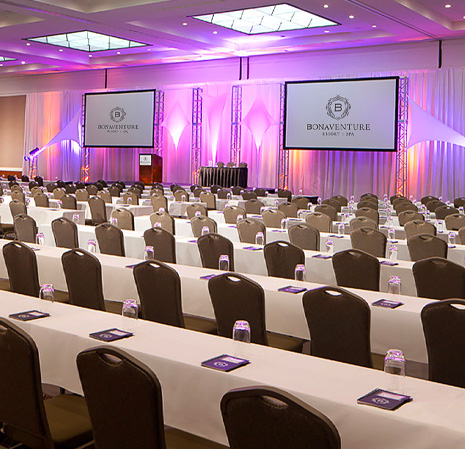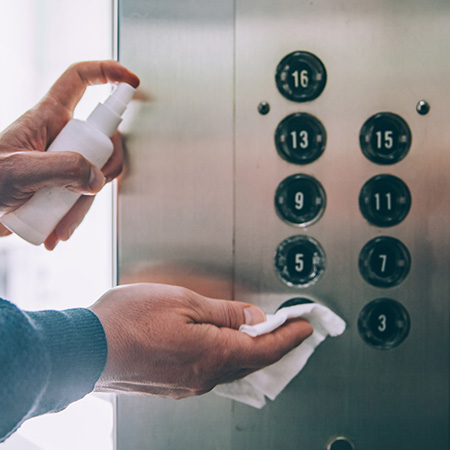 Elevators
No more than 2 guests will be allowed on the elevators at once at this time. Additionally, elevator buttons and related surfaces will be disinfected frequently.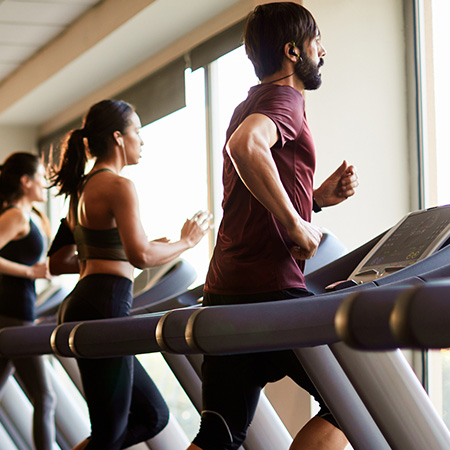 Fitness Centers
Fitness center equipment will be thoroughly disinfected on a regular basis. Sanitizing stations are also being installed for guests to use during their time in the fitness center.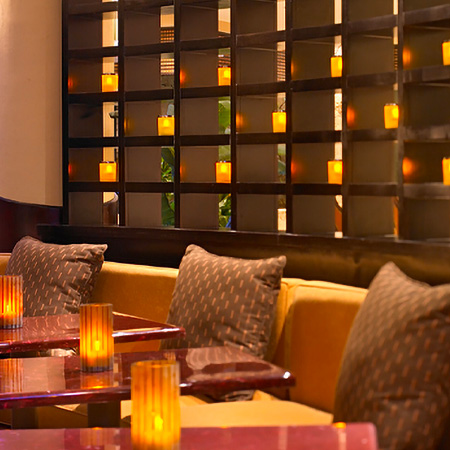 Common Areas
Within the lobby, hotel teams will be more frequently sanitizing high-contact surfaces like front desk check-in counters, door handles, and public bathrooms.
Cleanliness Policies FAQ
Have you changed work protocols or processes to safeguard associates from COVID-19?
We are committed to monitoring the latest guidance from the CDC and WHO and are updating their protocols, and developing appropriate guidelines for hotels which include everything from training on safety, sanitation and social distancing protocols to providing appropriate personal protective equipment and access to hand sanitizers while on property. In the spaces where associates work "behind the scenes," we are increasing the frequency of cleaning and focusing on high-touch areas like associate entrances, locker rooms, laundry rooms and staff offices.
What cleaning practices is your hotel following today?
Bonaventure Resort & Spa has long had a reputation for high standards of hotel cleanliness with well-established cleaning processes and training in place. On a regular basis, our hotel is working to adopt the latest guidance on hygiene and cleaning. Our hotels' health and safety measures are designed to address a broad spectrum of viruses, including COVID-19, and include everything from handwashing hygiene and cleaning product specifications to guest room and common area cleaning procedures.
Are products used to sanitize common areas and guestrooms non-toxic and safe - particularly for people with allergies?
The Hotel uses EPA- or local authority approved cleaning products that are safe for associates and guests. If you have a specific allergen or safety question about the products used by our hotel, we encourage you to reach out to the hotel directly.
What hygiene and safety items are being used and made available to all guests?
The CDC and WHO warn about direct, person-to-person contact as the primary way COVID-19 is spread. To help alleviate the risk of transmission this way, we will be using signage in our lobby to remind guests to maintain social distancing protocols and removing or re-arranging furniture to allow more space for distancing. Bonaventure Resort & Spa has also added partitions at front desks to provide an extra level of precaution for our guests and associates and is working with supply chain partners to make masks and gloves available to associates for daily use. The company is installing more hand sanitizing stations in high-traffic areas, including the entrances to the hotel, near the front desk, elevator banks, fitness center, and meeting Spaces.
What will happen when a guest checks in and must stand in line?
We are implementing social distancing guidelines which meet or exceed local guidance, including signage, physical partitions at the front desk and floor markers to help guests maintain appropriate social distancing. Guests are also encouraged to use our check-out system available via your guest room television.
Are there limits on how many people can congregate in lobbies or other public areas?
Our hotel is monitoring and adhering to guidance from our local authorities. Measures the resort is taking currently include helping guests' distance from each other in our lobbies/public spaces through increased social distancing signage, and removing excess furniture/seating to create more space.
What enhancements are being made to cleaning practices in your guest rooms?
The resort is continuing to use cleaning and disinfecting protocols recommended by the Centers for Disease Control and Prevention (CDC) and World Health Organization (WHO) to clean rooms after guests depart and before the next guest arrives, with particular attention paid to high-touch items.